Collection:

Conklin Voyager Birchwood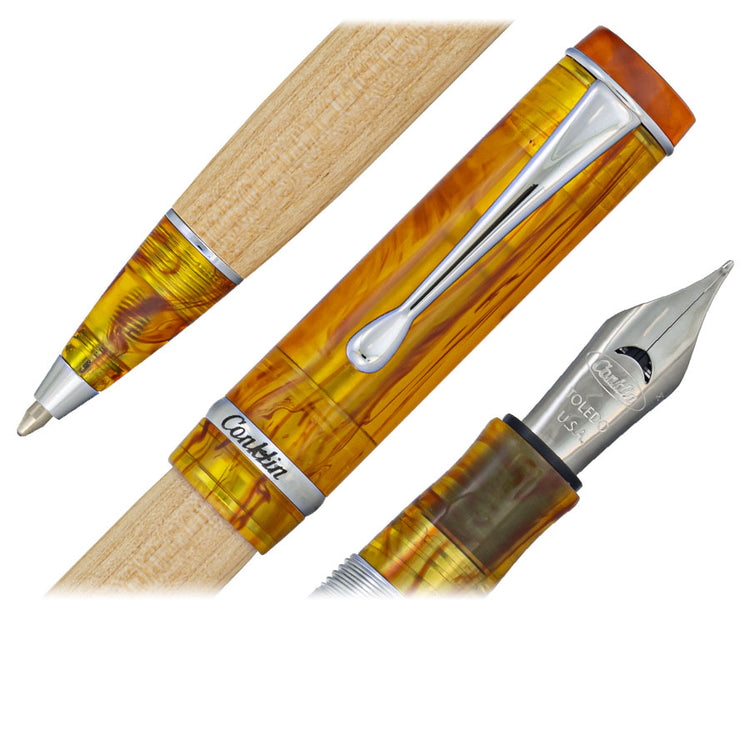 Birchwood and Fine Resin - Unique Combination!

The Conklin Pen Company® was established in Toledo, Ohio USA in 1898. From the Golden era of fountain pens until today. Shortly after its launch in 1923, the Duragraph model was considered to be 'the definitive' pen. Famously named by combining the words "durable" and "graph".

Duragraph Voyager, the new addition to this timeless collection, is skillfully handcrafted from elegant Birchwood and high-end European grade resin. The fine wood grain texture on the barrel beautifully complements the translucent amber colored resin of the cap. Lustrous chrome plating adorns the clip, band, and trim of each pen. The cap top is embellished with the Conklin® Est. 1898 logo and the cap band are engraved with the famous Duragraph™ model script font with three Conklin® crescents on either side of the model name.

The Duragraph Voyager is available in both fountain and ballpoint writing modes. The fountain pen is equipped with a premium JoWo steel #6 nib in Extra Fine, Fine, Medium, Broad, or Omniflex points. The pen fills via cartridge or converter (both included). The convenient ballpoint pen activates with a twist mechanism and accepts our most common ballpoint refills.