SKU:30704ISR
Regular price
$116.00 USD
Regular price
$145.00 USD
Sale price
$116.00 USD
Unit price
per
Sale
Sold out
Israel 75 Limited Edition; Seventy-Five Years in the Making

Conklin is proud to introduce the Israel 75 Anniversary Diamond Jubilee, a special anniversary celebration Limited Edition 1948 Collection. This is based upon a revitalized vintage Conklin classic. Exceptionable to look at and even better in hand, the Israel 75 is as unique as it is stunning. The resin is machined to perfection and scrupulously hand polished. The Israel 75 body features one of a specially selected blue and white resin, olive wood, and is then adorned with striking chrome accents along the overlay, clip and rings. Made with elaborate attention to detail, each writing instrument is a visual representation of the country.

Notice the satin chrome plated overlay out of which a design is carved. The custom-made resin underneath displays the main symbols of Israel's cultural values: words Israel (Israel in Hebrew). and a dove and an olive branch which is recognized throughout the world as a token of peace. Also notice the seven-branched Menorah, symbolizing the seven days of Creation. You'll find the Hebrew word Shalom, meaning "Peace", and the Torah, representing the core of the Jewish spiritual and religious tradition. Located along the olive wood top of the cap is an intricately engraved coin with the Star of David encircled by the Shema Yisrael (the centerpiece of the daily morning and evening prayer services) that reads, "Hear O Israel, the Lord is our God, the Lord is One".

The clip is etched with a grape vine design on it as a symbol of the Tree of Life. The band of Israel 75 incorporates the sacred Western Wailing Wall (Kotel in Hebrew), long believed to be the sole remains of the Second Temple, that stood in Jerusalem for over 2000 years as well as a numerical reference to the 75th anniversary years: number 75 in Hebrew numerology. Each pen is a unique piece of art. Conklin Israel 75 Anniversary Diamond Jubilee collection is a numbered Limited Edition of 1948 pieces in each of the three modes.

The twist action ballpoint comes with a Parker- Style ballpoint refill. Each ballpoint comes in a blue Conklin gift box. Each pen box is fitted with an explicitly designed sleeve decorated with cut-outs in the shapes of the pen's overlay symbols through which the blue flag color is visible, creating an intricate pattern on the sleeve.

Overall Size - 5 1/2 in. x 5/8 in. (140mm x 17mm)
Weight - 45 g
Composition - Blue and white resin
Appointments - Chrome and olive wood
Engraving - This pen does not have a space for engraving or the material simply does not allow us to engrave.
This pen is with a black medium point refill. 

Please note!

No two Israel 75 pens are alike. Each is made from a custom resin with unique flows of color. Every piece has a totally different display of this wonderful resin.
Share
View full details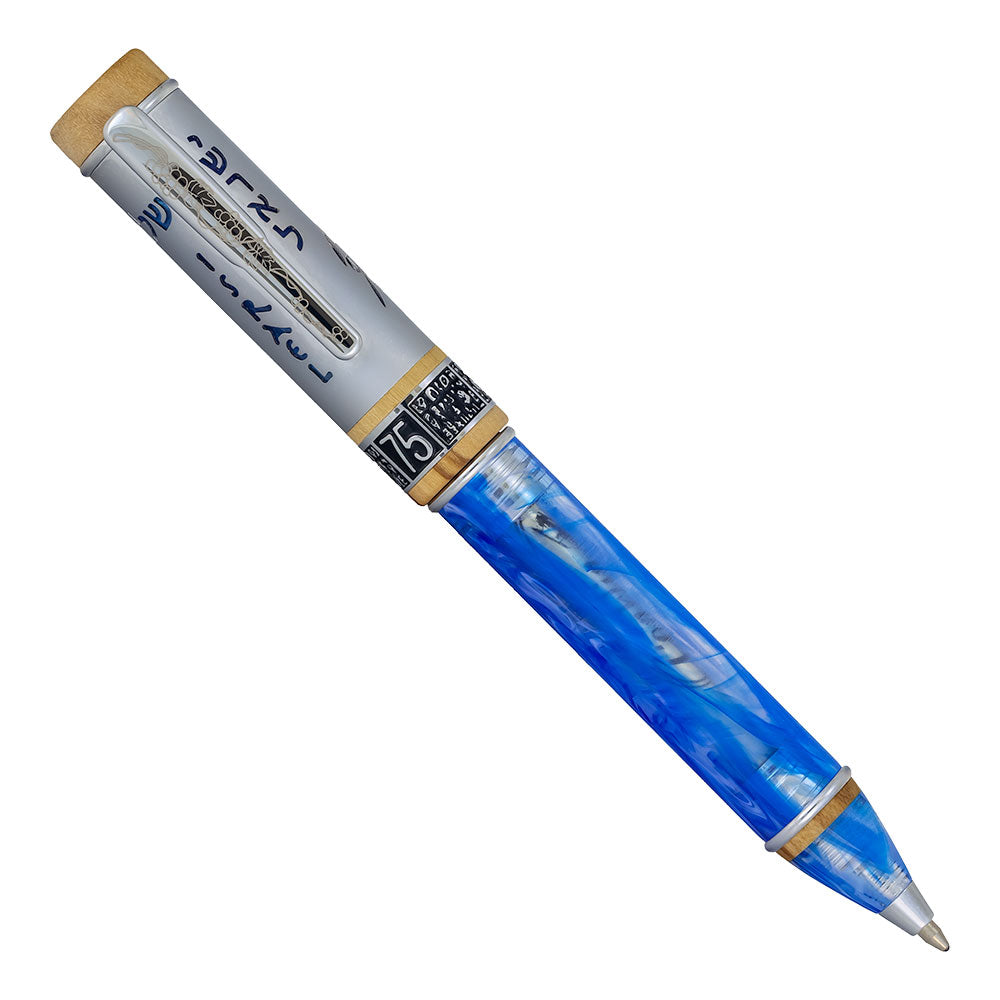 Free Shipping

We offer free shipping to one location for any order $95 and above.

Shipping Information

Hassle Free Returns

Shopping from your home or office need not be a concern. If you decide you've made an incorrect choice or the refills you thought you needed were ballpoints (but you actually need a rollerball), no worries. Pens can be returned/exchanged unused for 30 days. Refills are Guaranteed to perform to your standards.

Return Policy