SKU:15102BLUM
Regular price
$166.00 USD
Regular price
$208.00 USD
Sale price
$166.00 USD
Unit price
per
Sale
Sold out
Art and Science Coexist

The credentials of Pineider's pen designer, Dante del Vecchio, are well established. When combined with 3D engineering and high precision manufacturing, each individual pen is assembled without using a single drop of glue. A technological puzzle! Every component precisely fits each other by simple design. Pineider refers to this new process as GlueLess Technology. 
The collection features Pineider's new UltraResin. This material was developed in Florence by Pineider in a mother of pearl compound resin. UltraResin is very durable, much more so than traditional Celluloid, the historical material of pen industry. UltraResin is extremely rigid, nearly like metal, incredibly resistant to hits, very close to call it unbreakable, resistant to oils, inks, electricity, to high and low temperatures. The ultimate resin.
A thin film is inserted into the cap to protect the magnet from corrosion and allows a soft touch closure. A sophisticated solid steel clip is supported by an internal spring and mechanism built.  The band is finely engraved and inspired by the skyline of Florence.
The fountain pen is powered with Pineider's own large N6 steel Futuristic Nib. It can be filled with the included converter, the Pineider Snorkel or the Pen Filler. The ballpoint, a twist-action, uses a standard Parker-Style refill or the Pineider Ink Level indicating refill. The rollerball uses a standard size refill or the Pineider Ink Level refill designed for the rollerball writer.
Overall Size - 5 5/8 in. x 9/16 in. (140mm x 14mm)
Body - 5 1/4 in. x 9/16 in. (131mm x 14mm)
Cap - 2 5/8 in. x 9/16 in. (63mm x 14mm)
Weight - 25 g
Composition - UltraResin
Appointments - Palladium plated nickel free
Nib - Steel
Converter - Screw piston converter included
Engraving - The resin of this pen is engraved and then filled with a silver color to match the appointments. 

This pen is delivered with one blue and one black ink cartridge. 
Share
View full details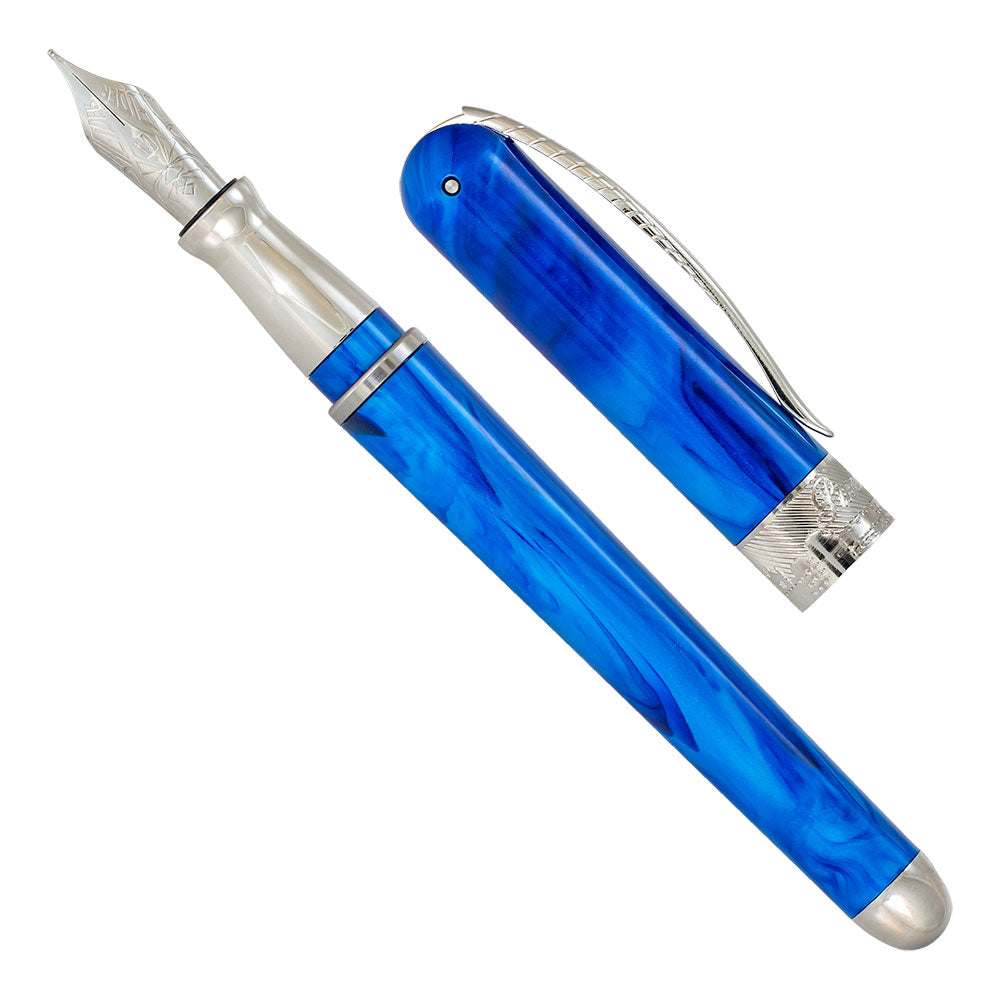 Free Shipping

We offer free shipping to one location for any order $95 and above.

Shipping Information

Hassle Free Returns

Shopping from your home or office need not be a concern. If you decide you've made an incorrect choice or the refills you thought you needed were ballpoints (but you actually need a rollerball), no worries. Pens can be returned/exchanged unused for 30 days. Refills are Guaranteed to perform to your standards.

Return Policy