Regular price
$977.00 USD
Regular price
$1,150.00 USD
Sale price
$977.00 USD
Unit price
per
Sale
Sold out
Desert Heat

The Opera Master 'Savanna' transports the pen collector to the fascinating landscapes of the African savanna, where lions, zebras, and elephants roam in the wild. The savanna landscape changes with the passing of the seasons, from the dry heat of the plateaus to the wet rain of the tropics. The predominantly yellow shades of the dry season shift into thousands of brown hues typical of the rainy season. These two seasons come together in harmony and are united not only in the heart of Africa, but as well in the barrel and the cap of the new Opera Master Savanna.
This is an exceptional fountain pen featuring the many patented innovations favored and sought out by Visconti collectors.
• Visconti's 18kt gold in-house nib is hand-crafted in Florence, Italy. This is available in extra fine, fine, medium , broad and stub. If you haven't owned this fabulous nib, it is an experience for the fountain pen lover to behold.
• The amazingly inventive Double Reservoir' Power Filler system. A vacuum filling system that is easy to use and has considerable benefits. Patented in 1998, this is arguably the most advanced filling system ever developed in fountain pen history. You can fill the pen with the equivalent of 10 cartridges of ink! Thanks to the two reservoirs, the system prevents ink from leaking during air travel.
• The Hook Safe Lock is very satisfying to operate and was created to lock the pen body into the cap to prevent the possibility of the pen accidentally unscrewing and leaking inside a pocket or bag. The cap simply falls onto the barrel with a gentle twist.
• The 'Savanna' features a semi-transparent resin cap and body with beautiful swirls of yellow, brown, cream, and white inspired by majestic savanna landscape. The beloved Ponte Vecchio bridge clip features a light yellow enamel to accent the Visconti name. Tasteful.
Overall Size - 6 in. x 5/8 in. (152mm x 17mm)
Body - 5 7/16 in. x 9/16 in. (138mm x 15mm)
Cap - 2 9/16 in. x 9/16 in. (70mm x 17mm)
Weight - 40 g
Composition - Resin body
Appointments - Platinum plated
Nib - 18k gold
Ink - Double reservoir filling system, No cartridges or converters needed
Engraving - This pen does not have a space for engraving or the material simply does not allow us to engrave.

Please select your favorite color of bottled ink for shipment with your pen.
Share
View full details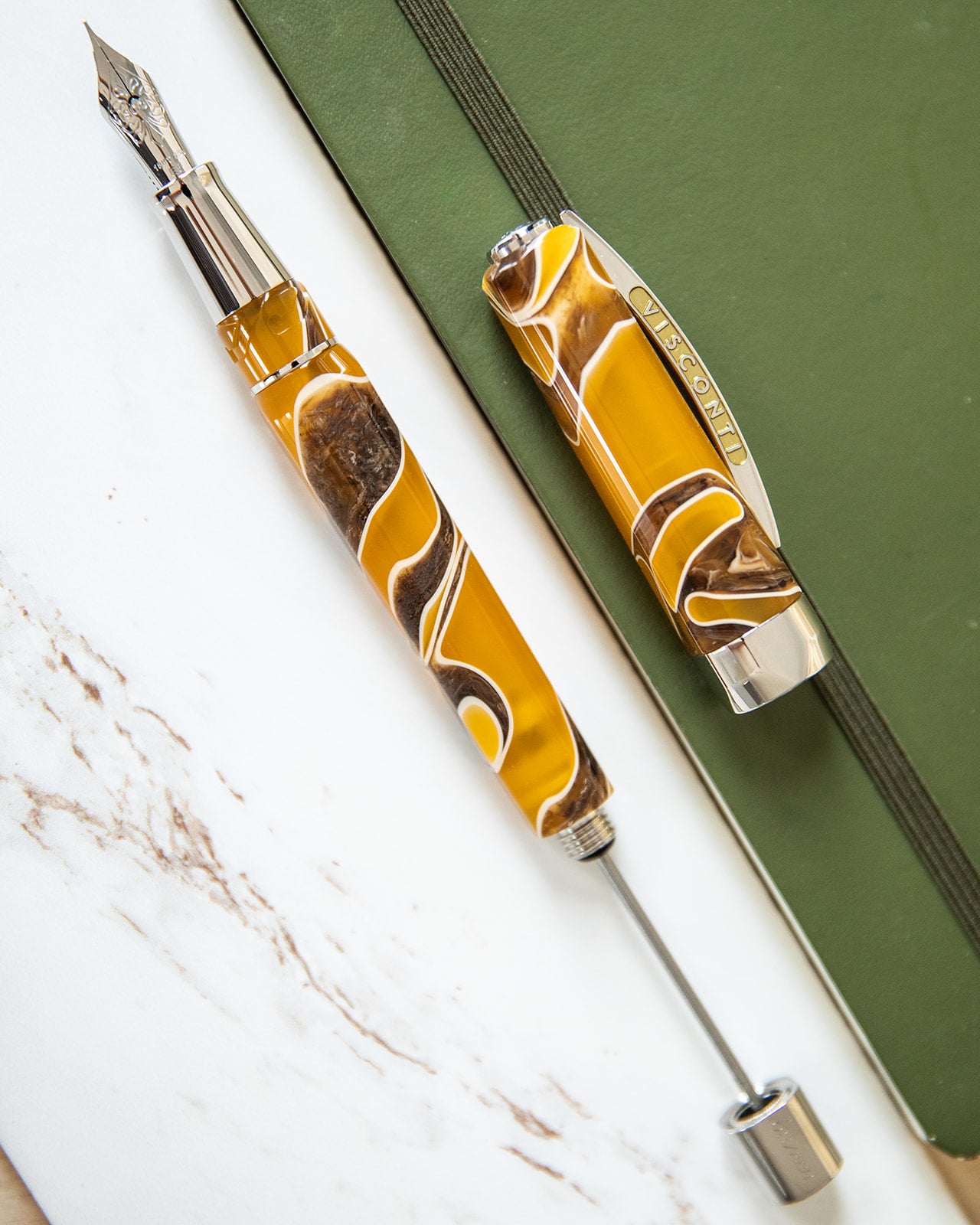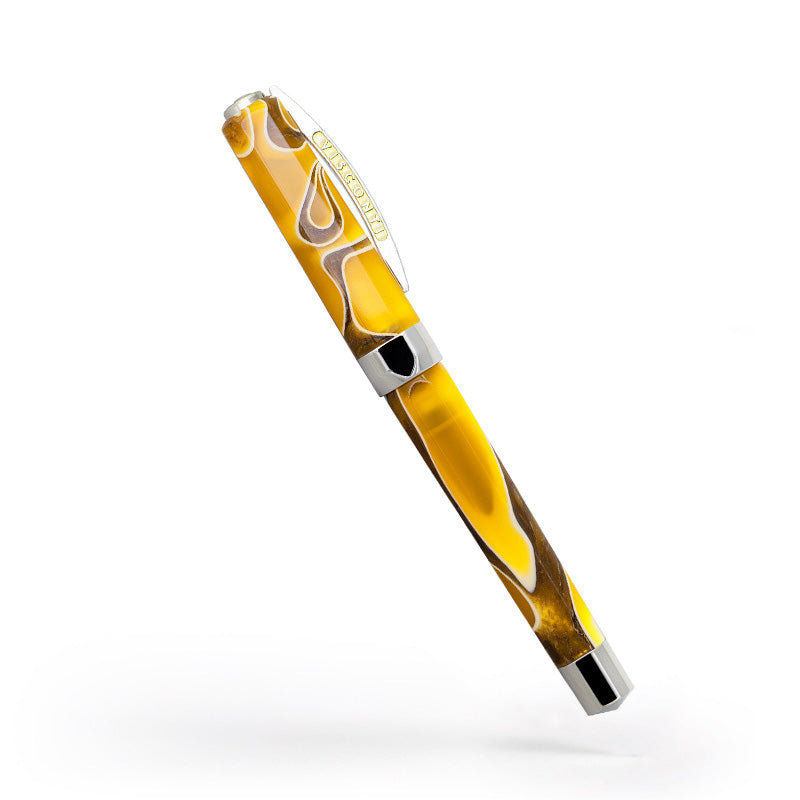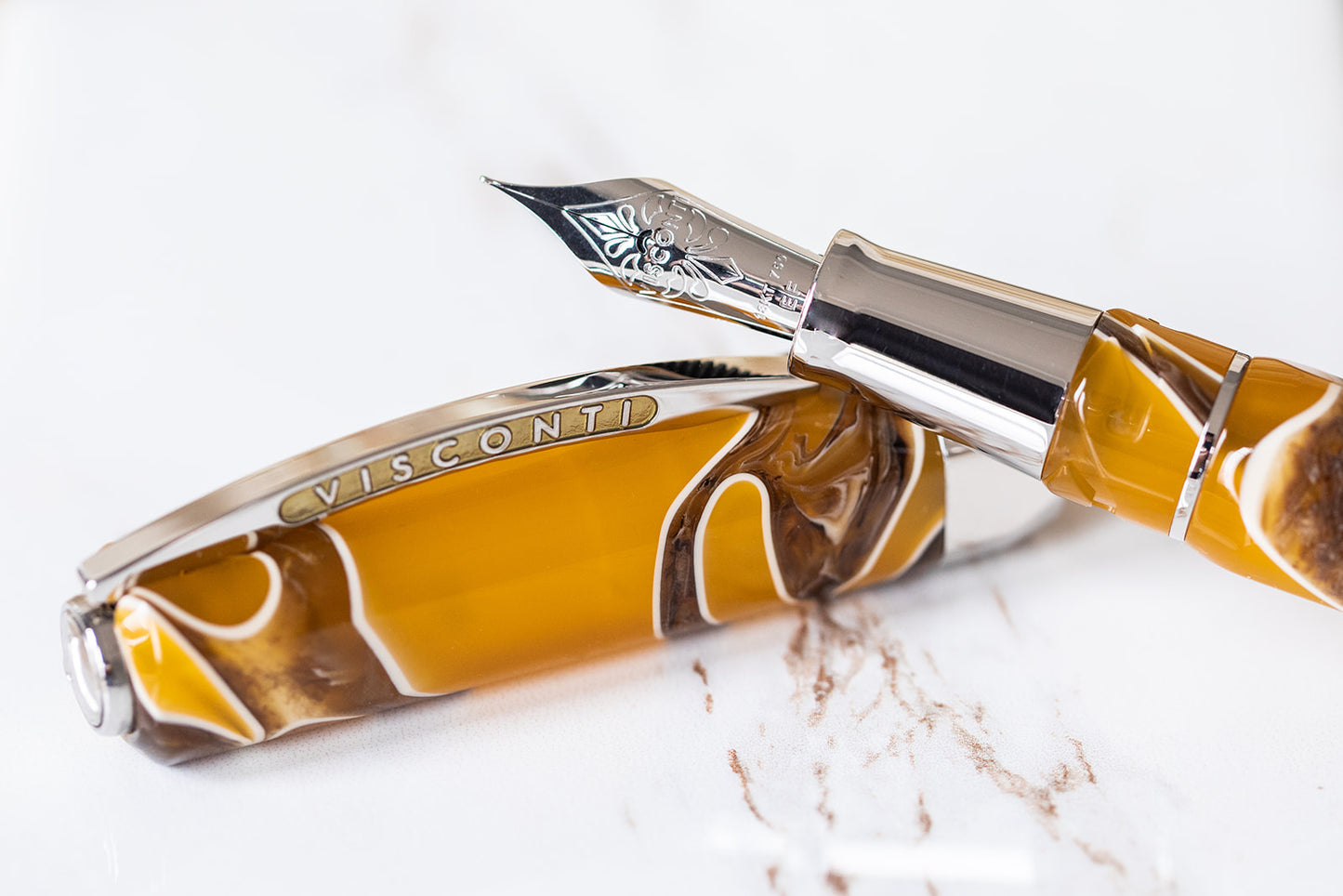 Free Shipping

We offer free shipping to one location for any order $95 and above.

Shipping Information

Hassle Free Returns

Shopping from your home or office need not be a concern. If you decide you've made an incorrect choice or the refills you thought you needed were ballpoints (but you actually need a rollerball), no worries. Pens can be returned/exchanged unused for 30 days. Refills are Guaranteed to perform to your standards.

Return Policy