Collection:

Esterbrook Limited Edition Estie Maui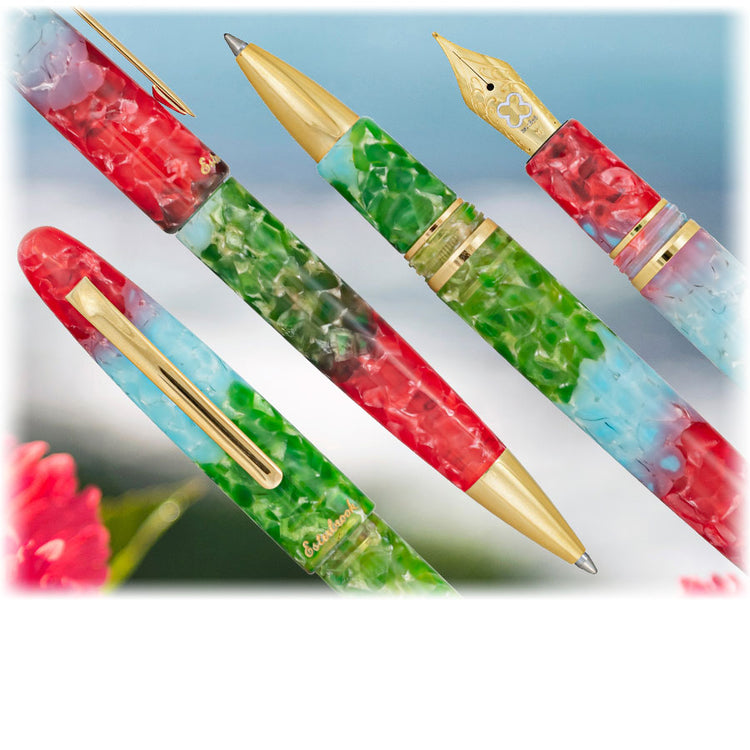 Say Aloha to Your Next Obsession

What can one say about Hawai'i that hasn't been said already? The island state has a rich cultural heritage and undeniable natural beauty that has a magnetic attraction upon tourists from around the world. With coastlines, cliffs, and sandy beaches, Hawai'i can only be described as paradise.

Of the eight islands that make up Hawai'i, each one has its own personality. There is Kauai, the Garden Isle, with a lush landscape and dramatic green vistas. There is Oahu, famous for surf towns and Waikiki. There is Molokai, which has been able to preserve much of the untapped beauty of the island state. The 'Big Island', Hawai'i, has rocky cliffs and verdant high mountain grasslands as well as its extremely active volcano, Kilauea.

Introducing Maui, a Limited Edition Taking inspiration from the varied geological attributes of Hawai'i's famous island, this pen is composed of a stacked acrylic blend in vibrant shades of blue, green, and red. No two pens are alike. The resin colors are simply spectacular.

This Limited-Edition Estie is fitted with gold trim. The fountain pen uses a #6 Jowo nib. We're offering extra fine, fine, medium and broad. Also available are a ballpoint and rollerball. The fountain and rollerball feature Esterbrook's locking screw-on cap. The ballpoint is twist-top deployment ready to write. All three would make a stunning set.