SKU:20706ORG
Regular price
$115.00 USD
Sale price
$92.00 USD
Unit price
per
Sale
Sold out
The Art of Misto
Misto is the art of resin mixing from liquid to solids using the latest advanced techniques. The Conklin Pen Company is proud to introduce a brand new, beautiful pen collection – Conklin 1898 in misto colors. In Italian misto means "mixed" or "mixed together", which refers to the unique resin mix of various multiple colors for each pen.
Mixing resins for luxury pens requires precision and attention to detail to achieve a superior and aesthetically pleasing result. The process is started by selecting a high-quality liquid resin, choosing suitable color combinations, and following a precise step by step process of mixing the colors together. With patience and perseverance, one can overcome these challenges and create stunning, infinite combinations of resin artworks with skillful color mixing techniques.
Conklin 1898 is inspired by the rich heritage of the Conklin brand, designed with comfort and durability in mind. This collection is suited to individuals looking for a well-sized, cigar shaped pen that provides a larger surface area for a comfortable grip while writing.
Offered in three beautiful misto colors: green, purple, and orange, with unique color blends where no two pens are alike. Purple and orange are accented with a rose gold trim. The green features a chrome trim.
Featured is a cap ring with a Conklin original vintage pattern, initially used on the first self-filling pens produced back in 1898, the year the legendary Conklin Pen Company was founded by Roy Conklin in Toledo, Ohio. Finally, each pen features Conklin's distinctive "rocker style" clip, designed for a smooth clip-on action.
The fountain pens feature a German made Jowo premium stainless steel nib in extra fine, fine, medium, broad, and Omniflex. Each cushion point nib displays the brand name and is marked with special crescent-shaped breathing hole.
Conklin's quality control team tests each nib individually to ensure top quality writing performance. The fountain pen uses reliable international cartridges, a threaded converter (supplied). The rollerball accepts standard international rollerball refill.
Each Conklin brand writing instrument is housed in a luxury gift box with a custom sleeve.
Overall Size - 5 3/4 in. x 11/16 in. (145mm x 18mm)
Body - 5 in. x 5/8 in. (128mm x 16mm)Cap - 2 11/16 in. x 11/16 in. (68mm x 18mm)
Weight - 38 g
Composition - Acryrlic resin
Appointments - Rose gold
Engraving - The resin of this pen is engraved and then filled with a silver color to match the appointments.
Share
View full details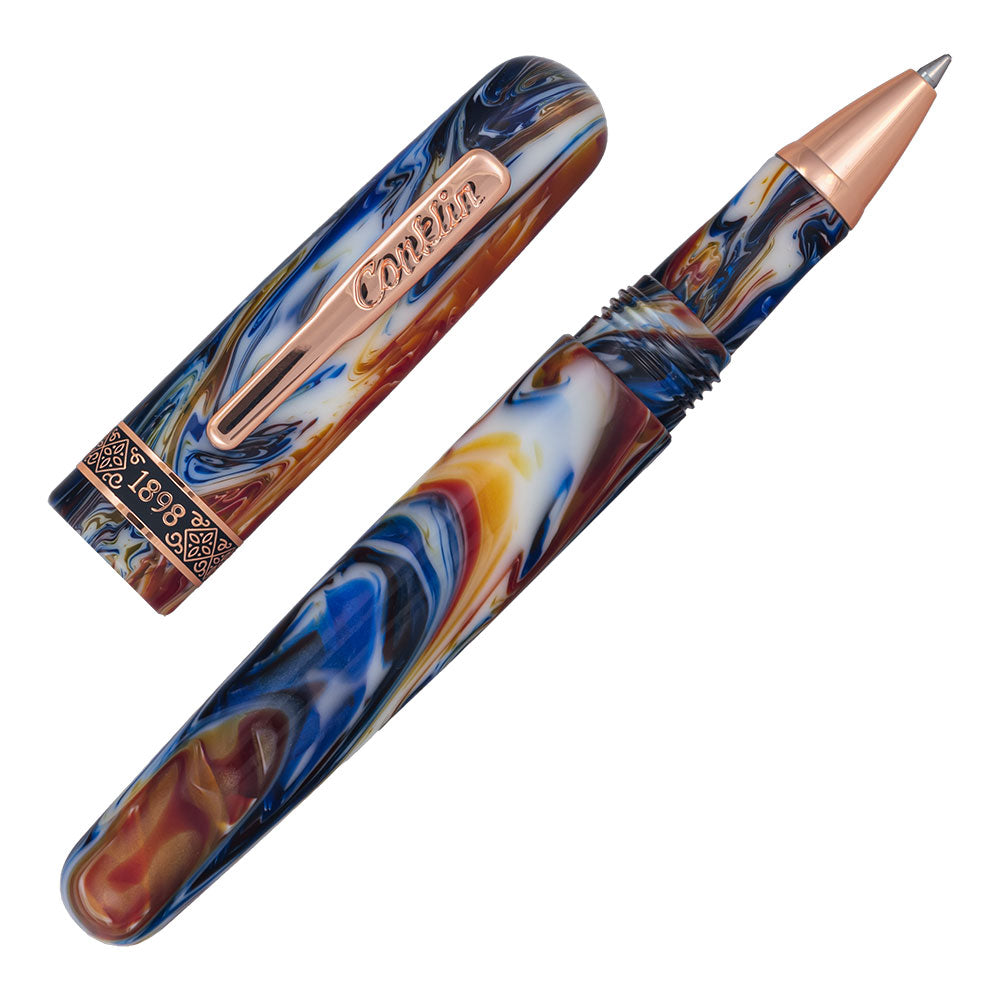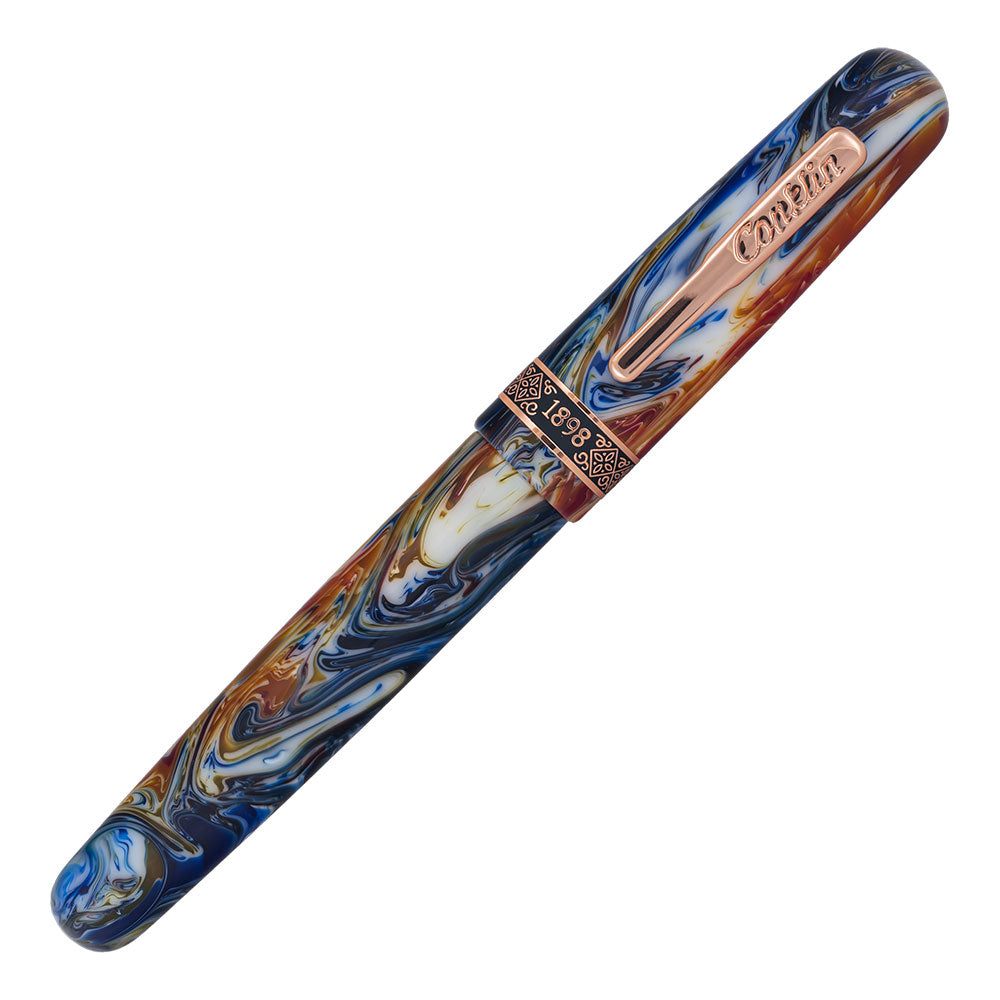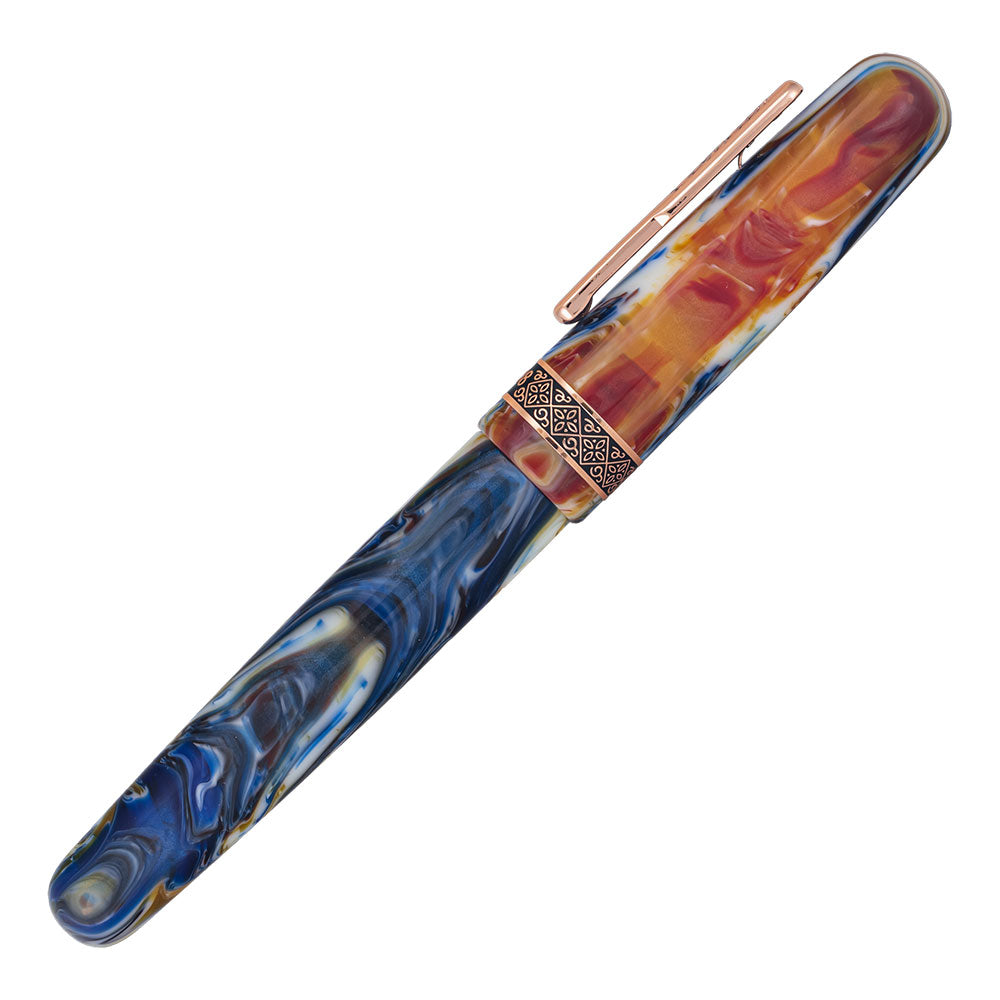 Free Shipping

We offer free shipping to one location for any order $95 and above.

Shipping Information

Hassle Free Returns

Shopping from your home or office need not be a concern. If you decide you've made an incorrect choice or the refills you thought you needed were ballpoints (but you actually need a rollerball), no worries. Pens can be returned/exchanged unused for 30 days. Refills are Guaranteed to perform to your standards.

Return Policy