Regular price
$1,279.00 USD
Regular price
$1,599.00 USD
Sale price
$1,279.00 USD
Unit price
per
Sale
Sold out
Delta Makes a Triumphant Return

Nino Marino co-founded the Italian pen company, Delta, in 1982. Delta quickly established themselves as craftsman of fine jewelry-grade writing instruments. All things Italian pens. Celluloids and hand-turned ebonite were combined with precious metals like gold and silver. Delta innovated feed and filling systems.
In 2017 Delta ceased production. Marino says, "The end of one existence, Delta Pens, became
the beginning of another". Shortly, a new brand, Maiora, was established and manufacturing began again. Now, four years later, Delta is back. To celebrate the return of this respected brand and to combine its past with its future, Delta has introduced the 39+1 in recognition of the 40 years since their founding.
This very desired Limited Edition of only 399 pens will sell out quickly. The main feature of this pen is the revolutionary 'Write Balance' system. It offers the writer a more personal feel.
'Write Balance' System Explained
At the top of the 39+1 fountain pen is a threaded cone, and within that cone is a two-gram, gold-plated removable weight. With the weight inserted into the cone, the fountain pen's balance is toward the back end, meaning that the user's hand is more involved in the writing. This top weighted center of gravity is often preferred by calligraphers
With the weight removed from the pen, the balance is weighted to the nib.  If you use your pen for a lot of writing like many of us, this is the most comfortable balance; weight forward, on the nib.
The Details
The pen fills with standard cartridges or the included converter. You can also use an eyedropper to fill. The 39+1 has an 18k Delta nib engraved with Delta's logo. Choose from extra fine, fine, medium or broad. The shape of the nib was designed to maintain a consistent flow. This mixture of brown and black celluloid first appeared in Delta's Enrico Caruso limited edition. The barrel features a curved grip section leading into gold-plated threading. It flares into a rounded body that feels substantial in the hand, ending at the top conical blind cap that contains the two-gram weight. The cap displays the Delta name and clip's rolling ball slide feature. The conical tip is engraved with the limited-edition number and the 2022 anniversary year. 
We encourage you to be among the few people to collect this new pen from the 'new' Delta.
Overall Size - 5 5/16 in. x 11/16 in. (135mm x 18mm)
Body - 4 15/16 in. x 9/16 in. (125mm x 15mm)
Cap - 2 7/16 in. x 11/16 in. (62mm x 18mm)
Weight - 30 g
Composition - Celluloid resin
Appointments - Gold plated
Nib - 18k gold 
Ink - Bottled ink converter is included
Engraving - This pen does not have a space for engraving or the material simply does not allow us to engrave.

This pen is delivered with one blue and one black ink cartridge. 

 
Share
View full details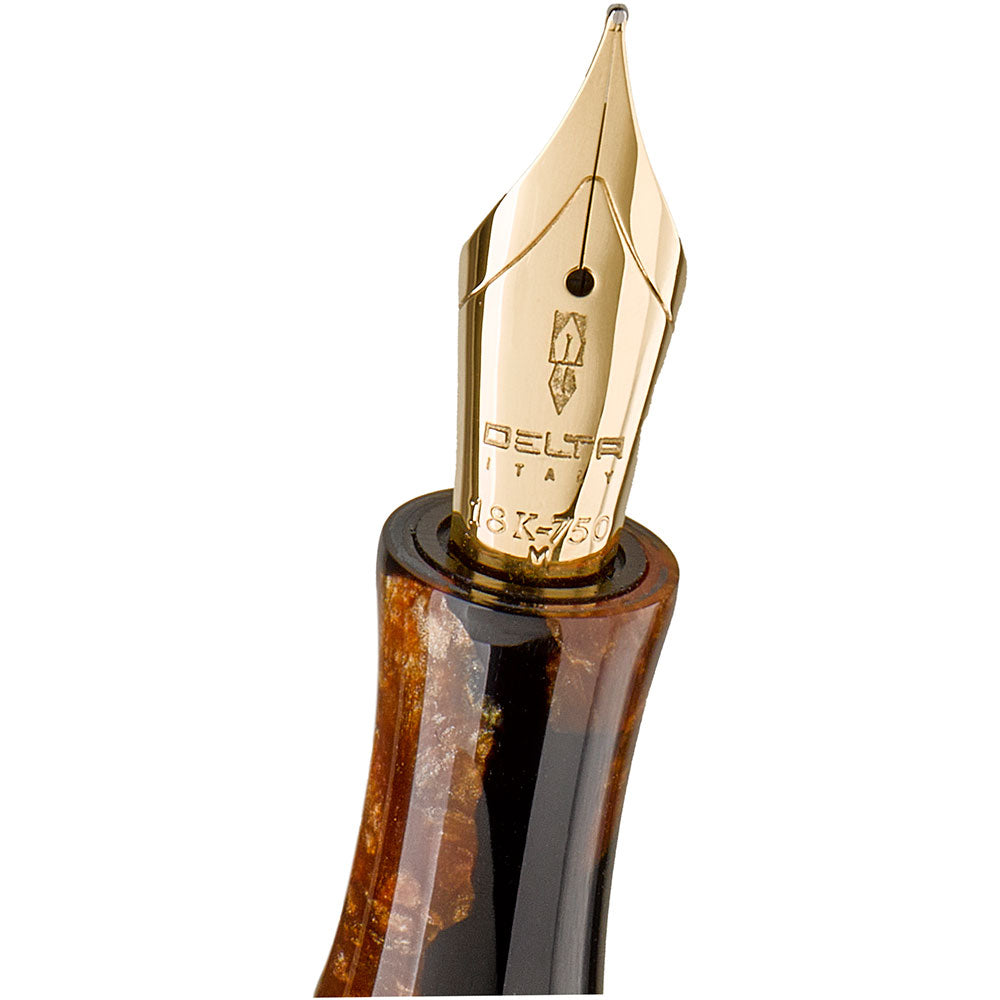 Free Shipping

We offer free shipping to one location for any order $95 and above.

Shipping Information

Hassle Free Returns

Shopping from your home or office need not be a concern. If you decide you've made an incorrect choice or the refills you thought you needed were ballpoints (but you actually need a rollerball), no worries. Pens can be returned/exchanged unused for 30 days. Refills are Guaranteed to perform to your standards.

Return Policy