Regular price
Sale price
$45.00 USD
Unit price
per
Sale
Sold out
Take Care
Of course, you want to take care of your investment. We've curated a few items we think will make fountain pen writing even more pleasurable. This Fountain Pen Care Package makes a unique gift for any fountain pen friend.
The Secret - Basic Maintenance
Fountain Pen Flush
Experienced fountain pen lovers know that keeping your nib and feed clean is the secret to trouble-free writing. It ensures a quick initial feed of ink after changing cartridges and ensures that the ink will flow effortlessly until the cartridge or converter is emptied.
A simple formula known to fountain pen restorers has been mixed to ensure a long-lasting quality writing experience for all. The Flush is drawn into your pen via a converter and then flushed with tap water. If you don't use a converter, you can simply soak your nib in Flush. We use this formula to revive the most clogged fountain pens you can imagine. We guarantee your experience will enhance your writing pleasure for years to come.
Pineider Snorkel: Get That Last Drop
The Pineider Snorkel is a stainless steel extension that fits into your ink converter allowing you to not only draw the last drop of ink from your bottle but also eliminate the mess of cleaning wasted ink off the nib and front section. The Snorkel has different diameters so that it can easily slip into converters made by most brands; The tube has a very small hole to minimize the amount of ink that will inevitably remain unused inside it. Never dip your pen into a tilted bottle again!
State-of-the-Art Ink - Liquid Velvet
After years of searching and testing, Colorado Pen introduces our own private label ink from deep in the heart of the Austrian Alps. Drawing this velvety, specially formulated ink into your favorite fountain pen or Eco-rollerball is a pleasure. Forming letters and jotting off a quick signature is enthralling.
Combine the ancient art of fountain pen writing with state-of-the-art ink technology. This revolutionary formula contains a lubricant to clean and protect your nib and reduce clogging. Conveniently, this formula resists drying if your pen is idle for short durations. Vibrant and enjoyable ink with a hint of present-day tech.
Microfiber Polishing Cloth
Cleans, polishes and protects gold, silver, platinum, chrome, resin. The cloth has both a treated inner white layer and an outer grey layer. Use it to loosen tarnish and buff surfaces for a brilliant shine on pens or jewelry. With millions of positive and negative-charged fibers, microfiber lifts and holds dirt, grease, liquids and bacteria.
Share
View full details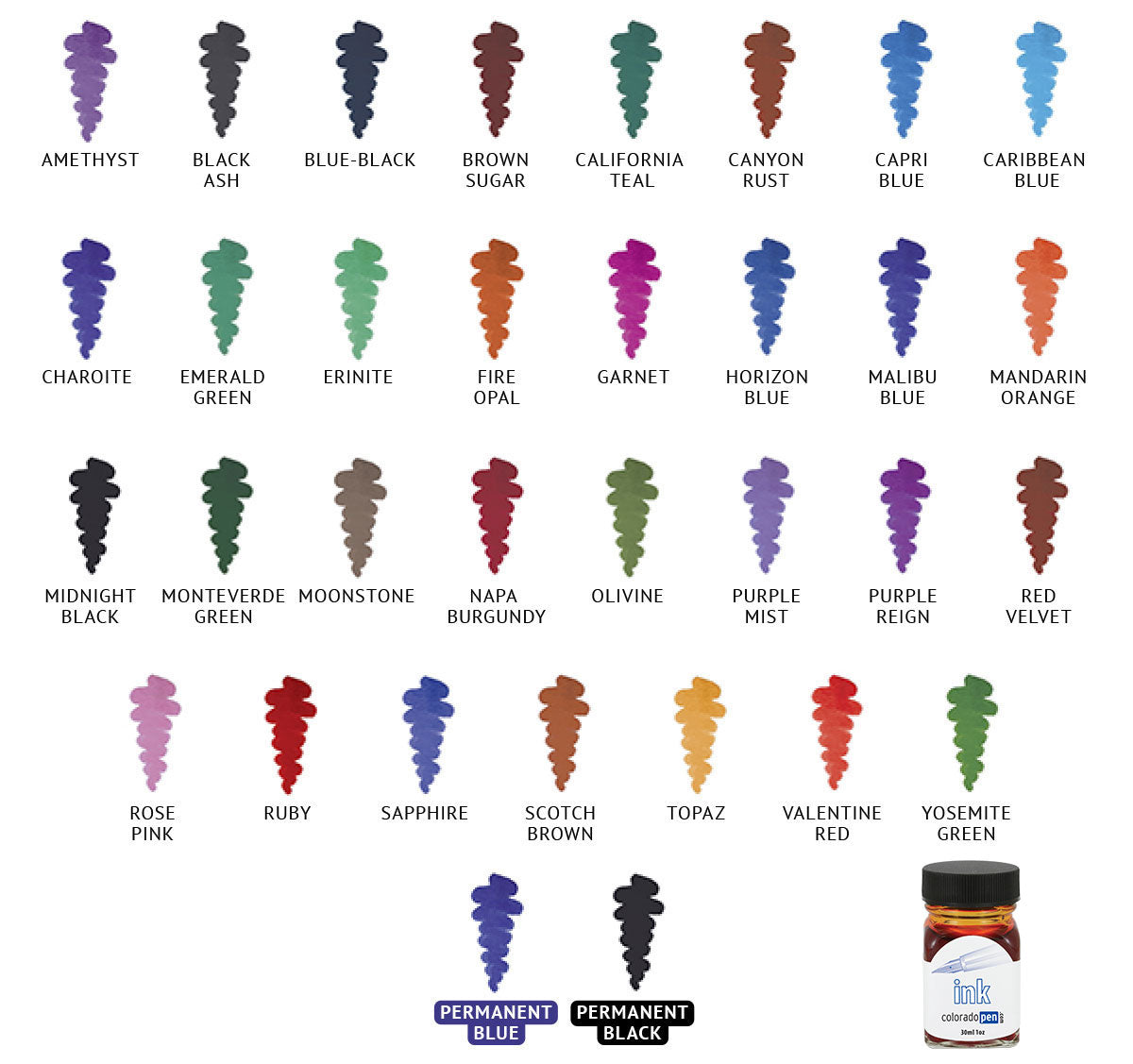 Free Shipping

We offer free shipping to one location for any order $95 and above.

Shipping Information

Hassle Free Returns

Shopping from your home or office need not be a concern. If you decide you've made an incorrect choice or the refills you thought you needed were ballpoints (but you actually need a rollerball), no worries. Pens can be returned/exchanged unused for 30 days. Refills are Guaranteed to perform to your standards.

Return Policy