SKU:21406CHD
Regular price
$194.00 USD
Regular price
$215.00 USD
Sale price
$194.00 USD
Unit price
per
Sale
Sold out
Prolific Writer Honored
The LeBoeuf Pen Company honors the famed author Charles Dickens and the 180th anniversary of the publication of his most famous novel, A Christmas Carol in 1843, with this stunning Limited Edition.
Charles Dickens is perhaps as famous today as he was during his lifetime. The English author penned 15 novels, five novellas, and countless stories and essays. He excelled in writing about London settings and comic characters, including the iconic Scrooge character featured in A Christmas Carol.
Born on February 7th 1812, Dickens first won fame in 1836 with the antics of the cockney sportsmen portrayed in The Pickwick Papers, which was issued in 20 monthly parts. This was followed by Oliver Twist (1838) and the semi-comedic Nicholas Nickleby (1839). Dickens soon graduated to write the complex and resonant masterpieces that have ensured his enduring fame, including A Christmas Carol (1843), David Copperfield 1850), Bleak House (1853), Great Expectations (1861), and Our Mutual Friend (1865).
Charles Dic
ickens died in 1870, leaving his last work, The Mystery of Edwin Drood unfinished.

Regarded as of the World's most significant writers, Dickens' works range from creative comic tales to those of intense social relevance. His detailed observations of the human condition inspired generations of readers. With legendary titles such as "A Christmas Carol", "A Tale of Two Cities", and "Great Expectations", Dickens still remains a giant in the world of literature.
The LeBoeuf Charles Dickens "A Christmas Carol" Limited Edition was produced with a special exclusive acrylic material named "Christmas Lights". Each barrel is engraved with the very distinct Charles Dickens signature in gold fill. A gold plated embossed coin featuring a portrait of Charles Dickens has been carefully placed atop each pen cap. A gold plated clip and band reinforce the elegance of this very special pen.
The Charles Dickens "A Christmas Carol" Limited Edition rollerball uses a standard International refill.
Each pen is packaged n a special commemorative Black packaging which features Charles Dickens famous signature. The LeBoeuf Charles Dickens "A Christmas Carol" Limited Edition is a collectible tribute to one of the world's greatest authors on the 180th Anniversary of the publication of his most famous Novel, A Christmas Carol.
This rollerball  two piece version uses a standard international refill.
Overall Size - 5 5/8 in. x 5/8 in. (142mm x 16mm)
Body - 5 in. x 9/16 in. (126mm x 15mm)
Cap - 2 1/2 in. x 5/8 in. (66mm x 16mm)
Weight - 22 g
Composition - Acrylic resin
Appointments - Gold plating
Engraving - The resin of this pen is engraved and then filled with a gold color to match the appointments. 

 

This pen is delivered with one black refill. 
Share
View full details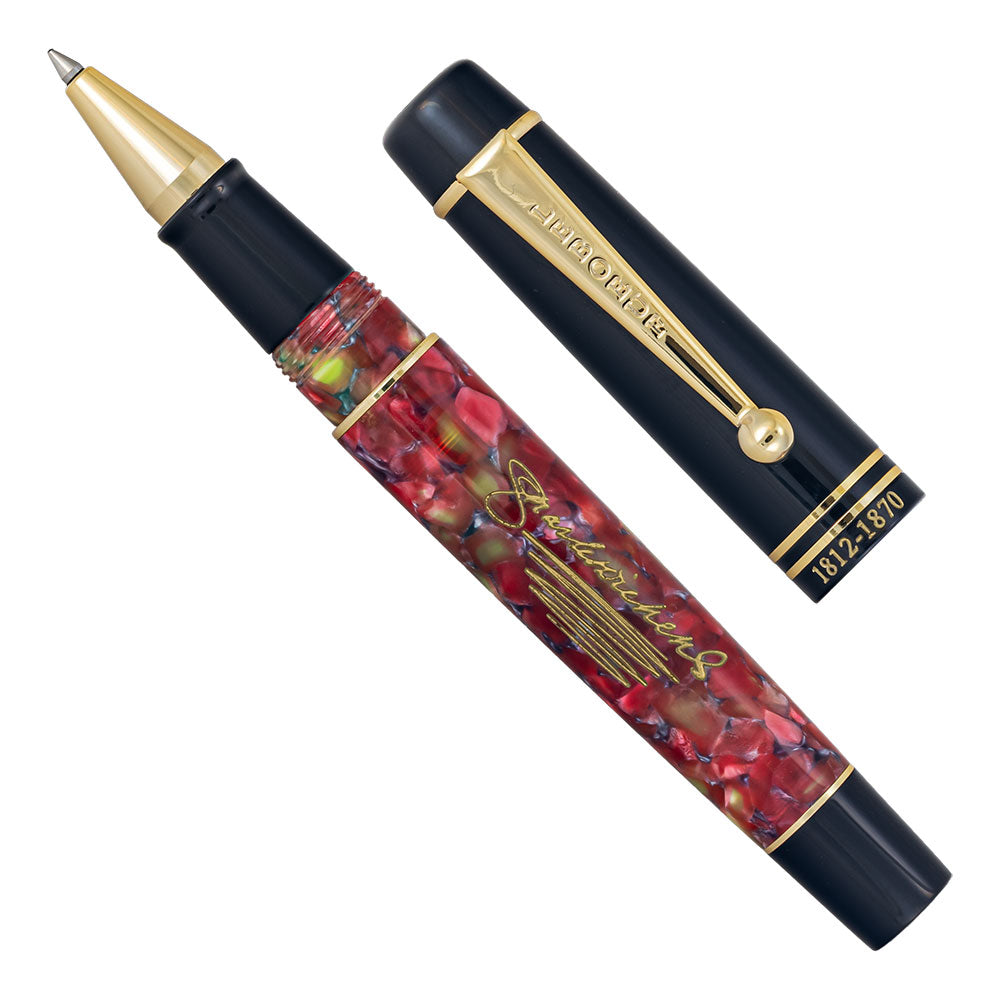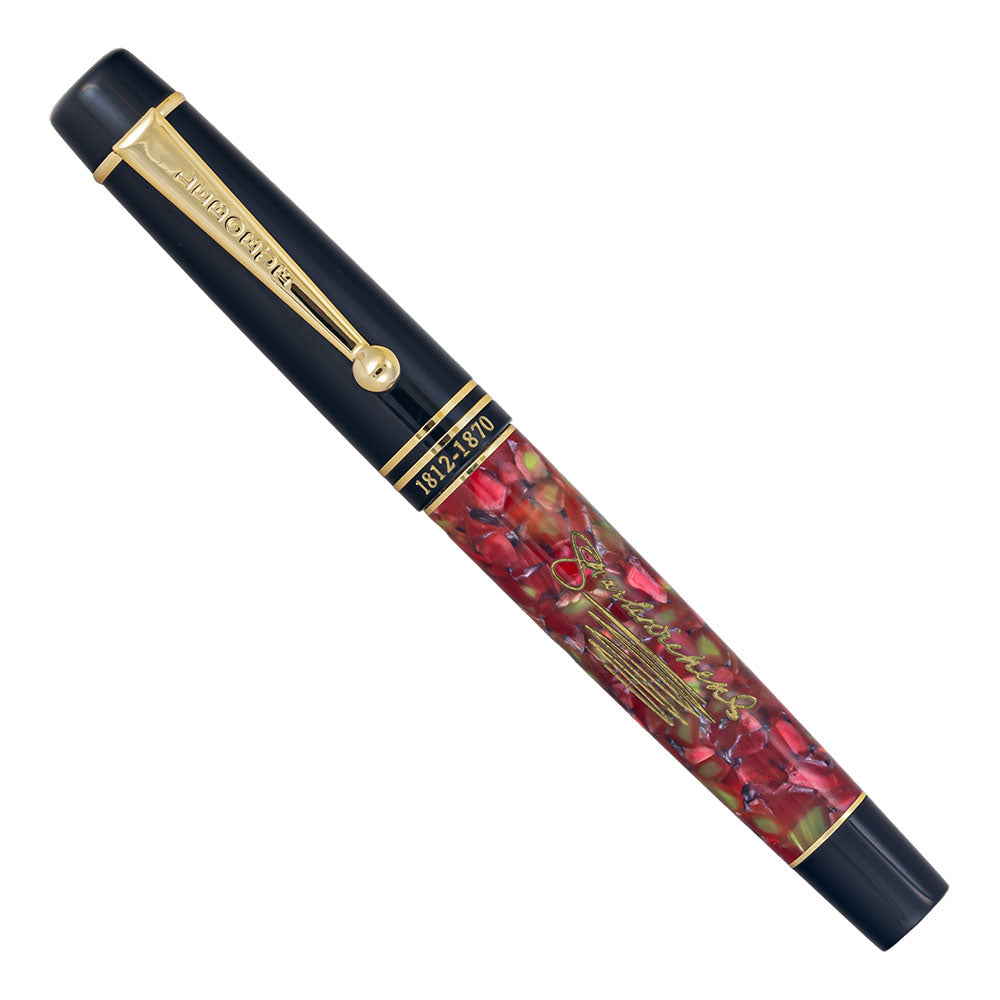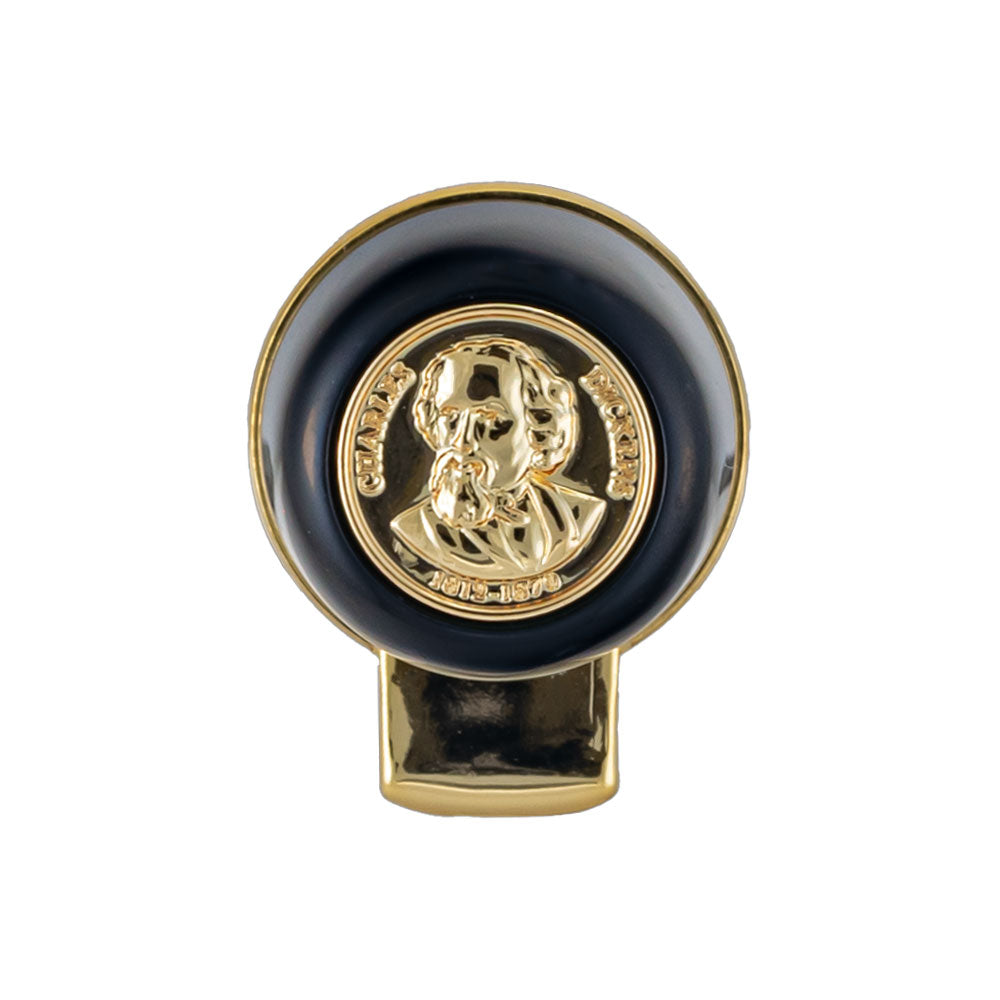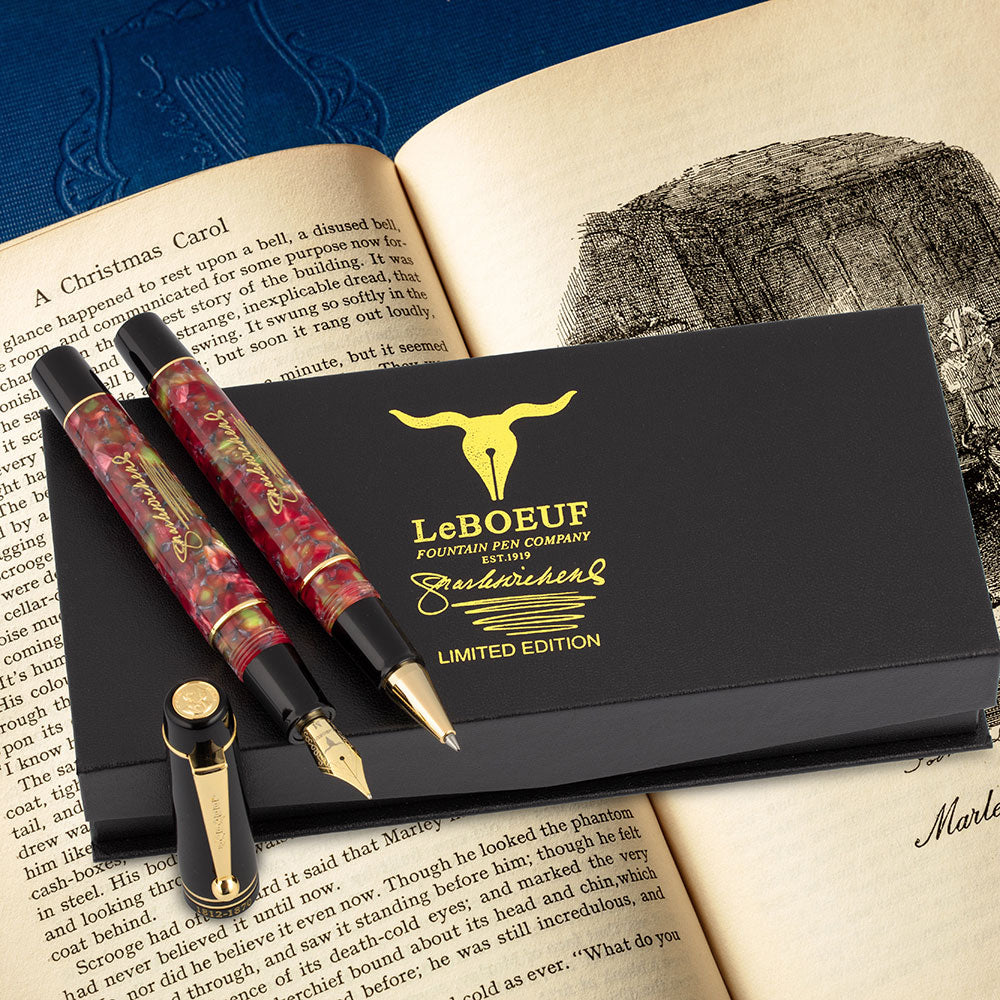 Free Shipping

We offer free shipping to one location for any order $95 and above.

Shipping Information

Hassle Free Returns

Shopping from your home or office need not be a concern. If you decide you've made an incorrect choice or the refills you thought you needed were ballpoints (but you actually need a rollerball), no worries. Pens can be returned/exchanged unused for 30 days. Refills are Guaranteed to perform to your standards.

Return Policy