Regular price
$185.00 USD
Regular price
$205.00 USD
Sale price
$185.00 USD
Unit price
per
Sale
Sold out
A Real Treasure

The LeBoeuf Icon Series Alexander Hamilton Limited Edition was produced with a specially chosen deep purple acrylic barrel representing the unique violet eyes which Hamilton was purported to have had.
Each barrel is engraved with Alexander Hamilton's signature in gold fill. A gold plated embossed coin featuring Hamilton's portrait has been carefully placed atop each pen's cap. Gold plated accents complete each pen.
The Alexander Hamilton Limited Edition rollerball uses a standard international rollerball refill.
Each pen is packaged in a special commemorative navy blue box that features Alexander Hamilton's famous signature.
The LeBoeuf Alexander Hamilton Limited Edition is a fitting tribute to one of our Nation's greatest founding fathers whose deep devotion to our founding principles helped establish the framework of our Republic.

Hamilton-
Alexander Hamilton life has become one of legends. The first U.S. Secretary of the Treasury, Hamilton became the leader of the nation's first political party, the Federalists. Hamilton remains a well-known figure in U.S. history. He is known not only for the great contributions that he made to the early United States but also for his famous duel with Aaron Burr in 1804, which resulted in his death.
Alexander Hamilton was born on January 11, 1755 on the island of Nevis, in the British West Indies. In 1772 he left to attend school in the American colonies. After a few months at an academy in New Jersey, he enrolled at King's College in New York City.
With the outbreak of the American Revolution, Hamilton left college in 1776 to join the Patriots. In 1777, he became a lieutenant colonel in the Continental Army and assistant to commanding general George Washington. Hamilton became one of Washington's most trusted advisers.
Attending the Continental Congress as a representative from New York from November 1782 through July 1783, Hamilton tried to make sure that the new government would have the powers it needed to deal with the problems it faced after it won independence from Britain. As one of the twelve delegates to the Annapolis Convention of 1786, he drafted its resolution calling for a constitutional convention to make sure that interests of the union as a whole were placed over individual state and local concerns.
Hamilton was one of the representatives from New York to the Constitutional Convention, held in Philadelphia in 1787. He wrote a series of essays on behalf of the planned Constitution. He wrote a series of essays collectively titled The Federalist, these essays were designed to persuade the people of New York to ratify, or approve, the Constitution. Although others wrote for The Federalist, Hamilton wrote fifty-one of the eighty-five essays. They contain some of America's most original and important writing on politics. As a result of Hamilton's efforts, the Constitution was ratified.
In 1789, President Washington appointed Hamilton as the nation's first Secretary of the Treasury but Hamilton's importance during this period was not confined to his work as treasury secretary. As the "prime minister" of Washington's administration, he was consulted on a wide range of problems, foreign and domestic. In addition, he is considered the leader of the country's first political party. Hamilton assumed leadership of the pro-administration group, known as the Federalists.
Hamilton retired from office in January 1795. He then became the most distinguished lawyer in New York City. His interest in public affairs continued, however, and he served as President Washington's adviser. He helped Washington write his famous "Farewell Address" (1796), in which Washington turned down a third term as president. Hamilton remained active in politics as well, speaking out in favor of candidates he liked and criticizing those he opposed.
In 1804, he took a stand against a rumored plot by New England and New York Federalists to break up the Union by forming a Northern Confederacy. Hamilton believed that Vice President Aaron Burr, whom he referred to as "the most unfit and dangerous man of the community," was involved with this plan. Hamilton also actively stood against Burr's bid for the New York governorship. Burr in turn challenged Hamilton to the infamous duel.
After putting his personal affairs in order, Alexander Hamilton met Burr at dawn on July 11, 1804, on the New Jersey side of the Hudson River. The two men exchanged gunshots, and Hamilton fell, mortally wounded. Many believe that he missed Burr on purpose, leaving himself an open target for Burr's bullet. Hamilton was carried back to New York City, where he died the next afternoon.
Overall Size - 5 5/8 in. x 5/8 in. (142mm x 16mm)
Body - 5 in. x 9/16 in. (126mm x 15mm)
Cap - 2 1/2 in. x 5/8 in. (66mm x 16mm)
Weight - 22 g
Composition - Acrylic resin
Appointments - Gold plating
Engraving - The resin of this pen is engraved and then filled with a gold color to match the appointments. 

 

This pen is delivered with one black refill. 
Share
View full details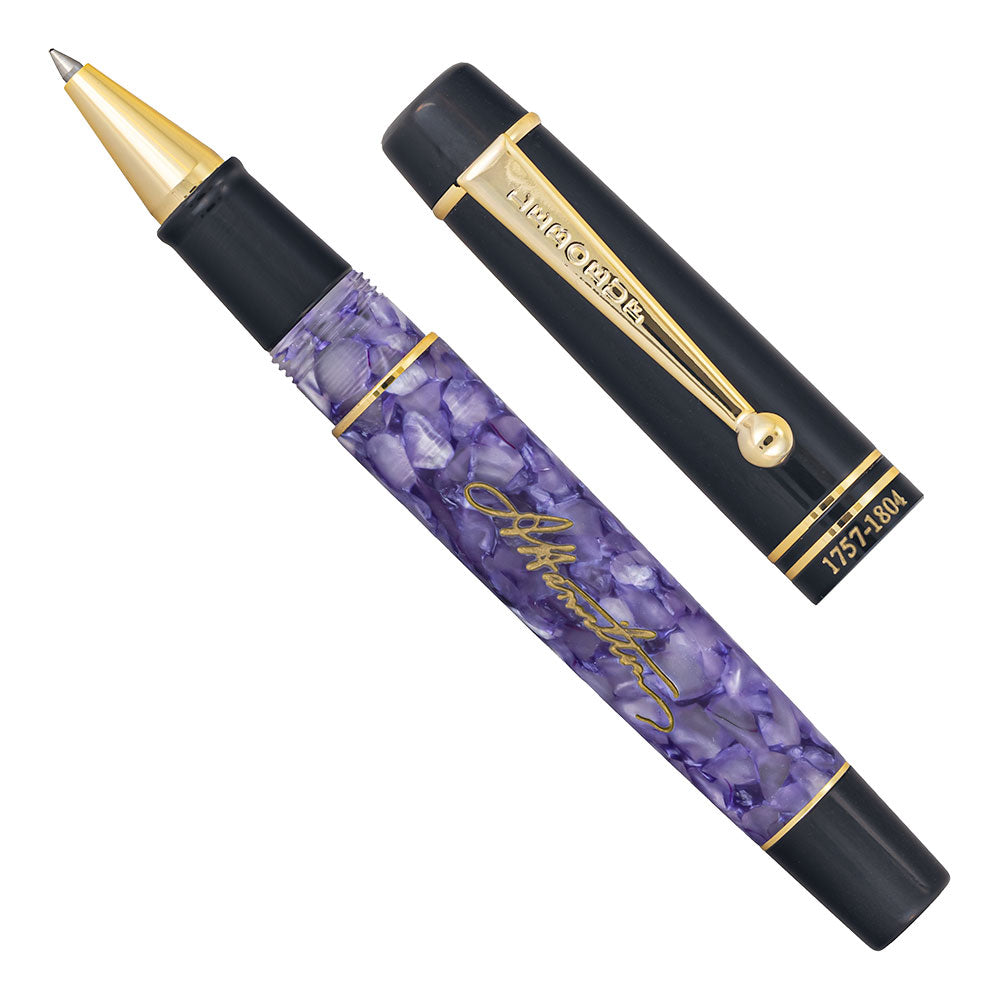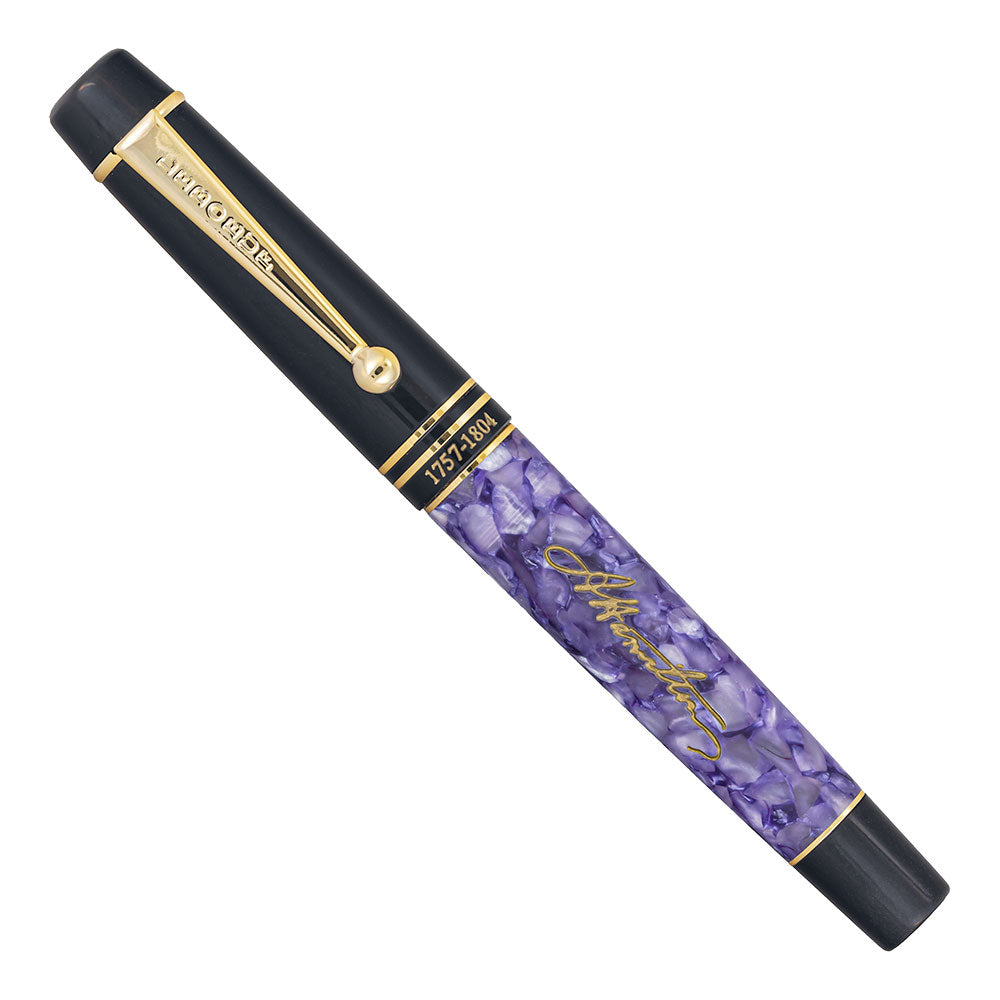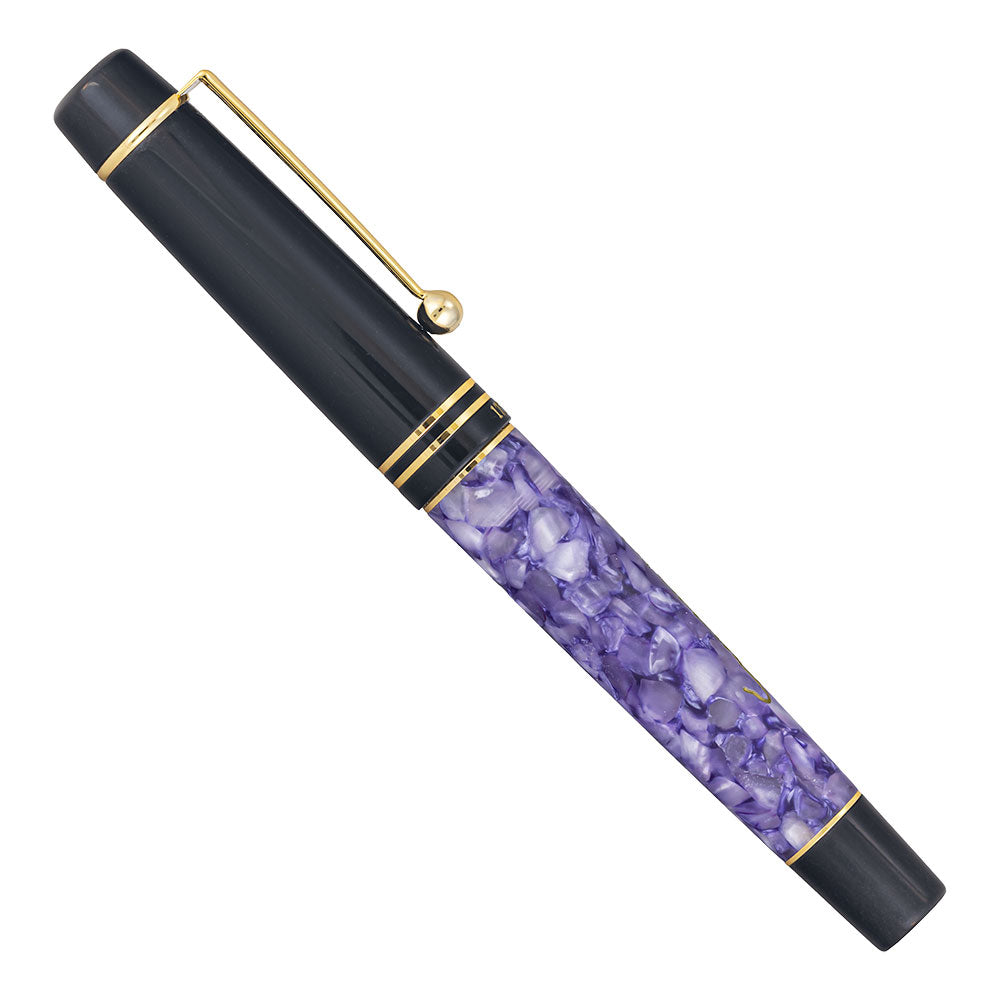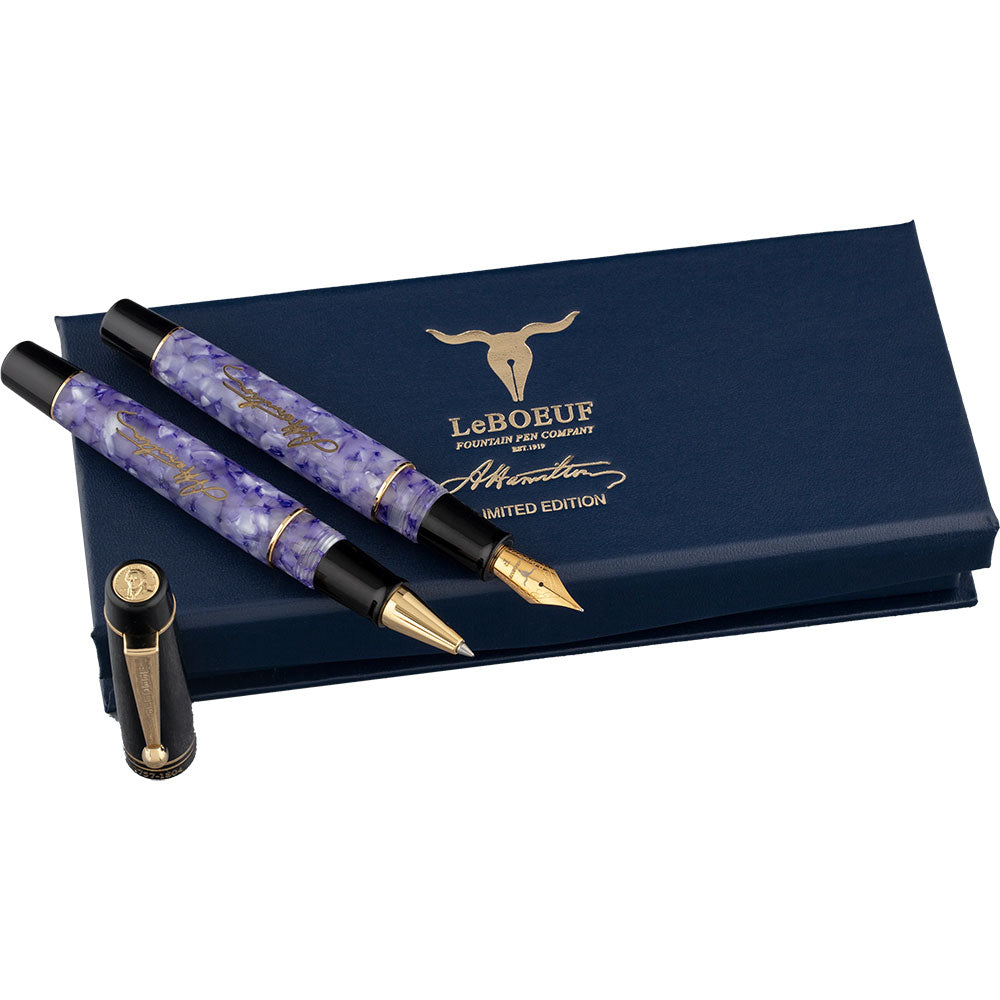 Free Shipping

We offer free shipping to one location for any order $95 and above.

Shipping Information

Hassle Free Returns

Shopping from your home or office need not be a concern. If you decide you've made an incorrect choice or the refills you thought you needed were ballpoints (but you actually need a rollerball), no worries. Pens can be returned/exchanged unused for 30 days. Refills are Guaranteed to perform to your standards.

Return Policy