Regular price
$276.00 USD
Regular price
$325.00 USD
Sale price
$276.00 USD
Unit price
per
Sale
Sold out
Another Masterpiece

Visconti's latest launch draw's inspiration from one of van Gogh's most treasured and iconic paintings, the Café Terrace at Night. The painting depicts the terrace of the café on the Place du Forum in Arles, France and is the first painting in which van Gogh used starry backgrounds; he went on to paint star-filled skies in 'Starry Night Over the Rhône' and the 'The Starry Night' a year later.
The meticulous selection of resins and their color mix is one of the major innovations introduced by Visconti and makes each and every Visconti van Gogh pen unique. The Visconti 'Café Terrace at Night' collection is made from natural resin, brought to life by blue, orange, yellow and green hues to recreate Van Gogh's technique, emotion and mood portrayed in this remarkable painting. 
Van Gogh's 'Café Terrace at Night' 
The Café Terrace at Night was painted by the Dutch artist in 1888. The painting is characterized by relaxed, almost dreamy strokes reflecting the serenity of the night sky in the French South. Once again, the artist relies on colors to convey his feelings and in this case, he chooses the contrast between strokes of yellow, orange, blue and green paint.
Although painted at night, van Gogh does not use black in the sky, instead shades of blue are contrasted with van Gogh's unique star motifs. The Cafe' is illuminated with sulfur pale yellow and citron green. Van Gogh painted the view looking south towards the lit terrace of the famous coffee house.
Each fountain pen nib is made from steel and engraved with van Gogh's signature. Available in Fine, Medium and Broad widths. A converter is included with each pen for bottle inks.
A reproduction of the painting is printed on top of the box and a special edition bookmark is included with each pen.
Overall Size - 5 1/2 in. x 9/16 in. (140mm x 15mm)
Body - 4 15/16 in. x 1/2 in. (125mm x 12mm)
Cap - 2 9/16 in. x 9/16 in. (65mm x 15mm)
Weight - 35 g
Composition - Resin body and cap
Appointments - Palladium plated
Nib - Steel
Ink - Bottled ink converter is included; no cartridges included
Engraving - This pen does not have a space for engraving or the material simply does not allow us to engrave. 
There are no ink cartridges included with the pen. 
Share
View full details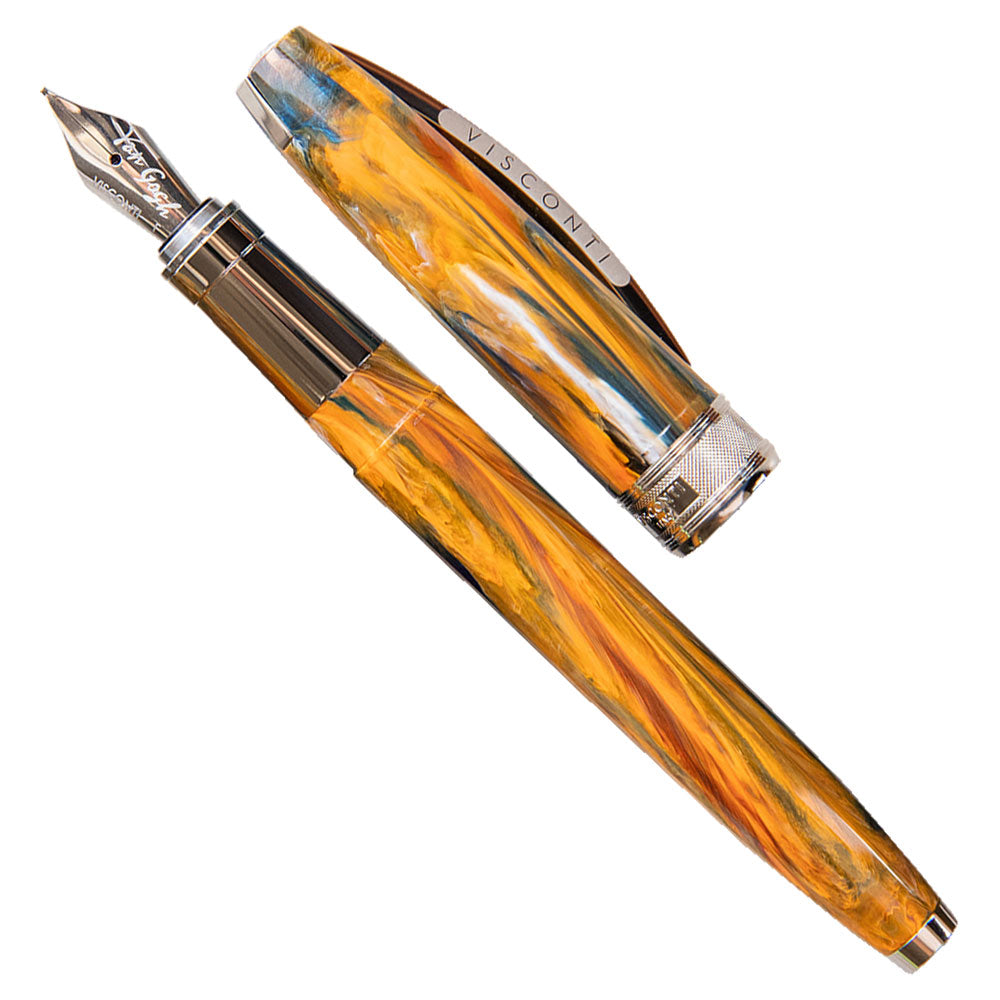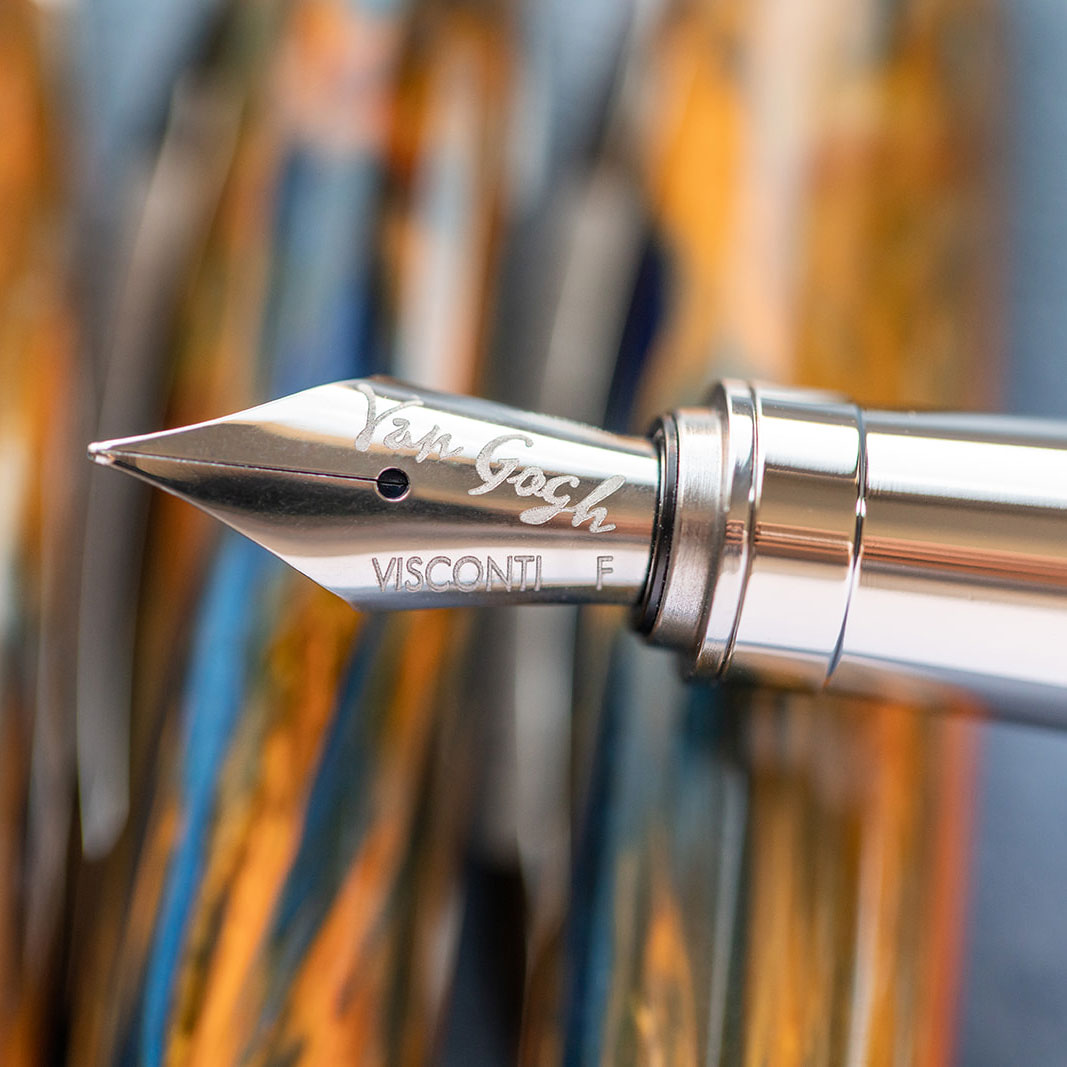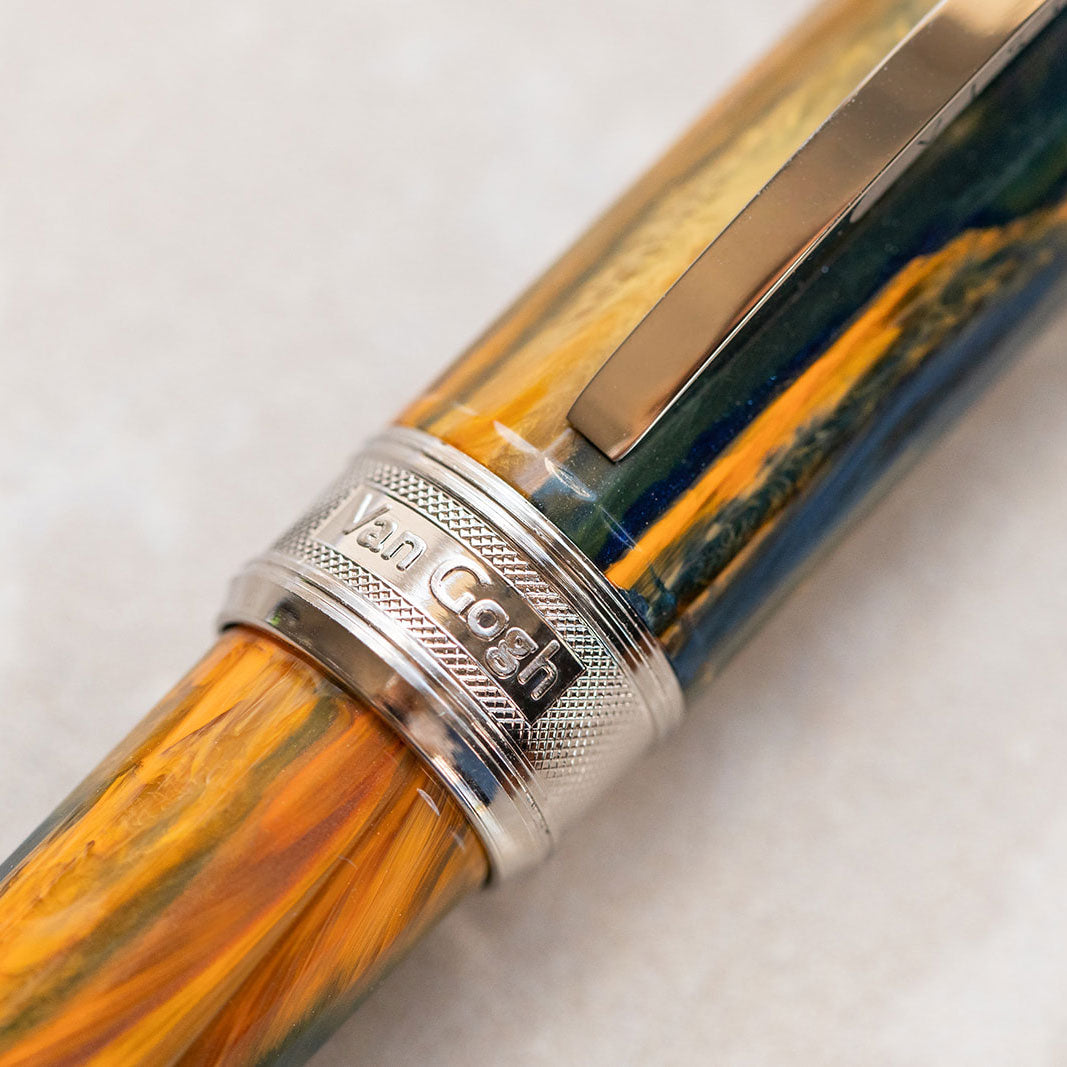 Free Shipping

We offer free shipping to one location for any order $95 and above.

Shipping Information

Hassle Free Returns

Shopping from your home or office need not be a concern. If you decide you've made an incorrect choice or the refills you thought you needed were ballpoints (but you actually need a rollerball), no worries. Pens can be returned/exchanged unused for 30 days. Refills are Guaranteed to perform to your standards.

Return Policy